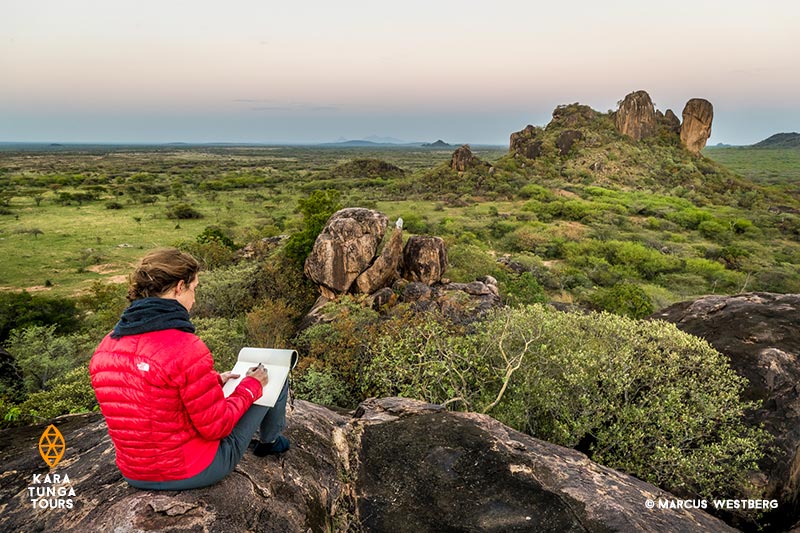 Expedition to Karamoja's Sacred Land on Uganda's Warrior Nomad Trail
Expedition to Karamoja's Sacred Land on Uganda's Warrior Nomad Trail – The walk was accompanied by an amazing team of storytellers existing out of award winning photographer Marcus Westberg and digital storyteller Dorothy Sanders.
This was the first of It's kind expedition to document the sacred lands of the Karimojong tribe located within the protected area of Uganda's Matheniko Wildlife Reserve. A true African wilderness experience.
Marcus Westberg
Marcus Westberg has a track record in supporting the development of new tourism destinations in Uganda. Westberg has been involved as photographer with the Gorilla Highlands initiative in the Southwest of the country. The initiative was founded to keep tourists for a longer period in the region surrounding the world famous Gorilla's.
There's no other way to describe it, the 5-day, 120 km walk through remote, arid Karamoja I just completed with the wonderful Dorothy (@dorothyesanders) from @maptia and @karatungatours's equally amazing Theo Vos and Peter Echumar.

When we contemplated the experience the evening after we returned to Moroto, the other words we came up with were intrepid, unforgettable, connectedness and participatory – which sums it up pretty well.

We stayed in small, temporary villages belonging to Turkana nomads and slept in the open under a blanket of bright stars. We collected water from muddy watering holes (which we then boiled, filtered and purified). We visited the Karimojong's most sacred site, Nakadanya, from where it is believed the tribe dispersed centuries ago to turn into the numerous different clans of the present-day.

I walked 70km with an ankle the size of a tennis ball (it's now smaller but rather purple); Dorothy and Theo with countless blisters. We watched the sun set and rise over an incredible wilderness, to the sounds of hyenas, birds, baboons and cicadas.

Dorothy and I received Turkana names from the leader of a village after spending a morning with him, his family and their cattle. We've reconnected with this incredible planet of ours, but also seen firsthand the impacts of climate change, environmental degradation and changing lifestyles and circumstances. We've become friends for life – that's simply what sharing an experience such as this does. I'm incredibly grateful for this experience. – @MarcusWestberg
Dorothy Sanders
Dorothy Sanders is co-founder of Maptia, an online platform where worlds renowned journalists and emerging photographers publish impactful and inspiring stories on cultural, social, and environmental topics, read over a million times to date.
Moments of quiet wonder and anticipation before our final 5-day trek into the bush in Karamoja, Uganda. The last couple of weeks had been an intense, colourful, and demanding kaleidoscope of experiences and encounters, and earlier that morning I set an intention to consciously seek out brief windows of mindfulness and appreciation for the journey.

Embarking on this last, most ambitious element of our expedition, with the goal of reaching the most sacred site for the Karimojong people, was a true privilege and real adventure, full of friendship and connection – especially with Marcus (@lifethroughalensphotography), my wonderful co-storyteller on this trip, as well as Theo Vos, of @karatungatours, who was on a deeply personal journey to discover his own Karimojong heritage.

In the end, the challenge and intensity of the experience – hiking 120km through some of Uganda's most arid and remote landscapes, and meeting many traditional Turkana communities – only served to make it more memorable and rewarding. It was an all-encompassing and visceral few days, experienced through sweat, blood, and wonder.

Even now, part of my heart and mind are still flying over the oceans and over Europe, catching up with my return yesterday, to find the ones I love. Strange how it often seems to take time to land; how we can sometimes leave parts of ourselves, trailing in the wind, in the slipstream of our travels, long after we have reached home.

This three-week expedition through Karamoja is something that I will remember and cherish for a long time to come. To be able to end this year – perhaps the most challenging for my family so far – by opening my eyes, and my being, to such fascinating new places and new people, is something I feel indescribably grateful for… I will share more in the coming days, including a few short videos (this is actually a still from some of the footage we took on this trip), but for the moment, back to the beautiful now. @DorothyeSanders
Background
Marcus and Theo (Co-founder Kara-Tunga) got to know each other during a special photography trip for the first tour operator to market Karamoja as a destination. Theo developed a special itinerary for the region and Marcus created a striking series showcasing Karamoja as a destination for culture and adventure.
They kept in contact with each other as they were both seeking for an opportunity to dive deeper in the culture and document this for today's and future generations.
Suddenly the opportunity came in 2018, where Marcus convinced friend and colleague Dorothy to travel to Karamoja and assess the opportunity for a greater long-term story.
Read the full story in the next edition of the Scandinavian magazine VAGABOND.
Book a tour
Theo was impressed by the diversity, wilderness, culture and story of the trip and developed a 1,2 and 3 day wilderness walking safari for others to experience as well. Read more about this tour on the website: 3-Day Karamoja Sacred Land Walking Safari.
Behind the scenes video
Watch the video compilation to give an impression of the 5-day expedition.
Photo report
View a selection of stunning photos by Marcus Westberg that give a rightful impression of the fast great amount of wilderness that still exists in East Africa. The expedition had all ingredients that make an unforgettable African adventure: untamed wilderness, endless views, magical sunsets, bright starry nights, authentic cultural experience and much traditional knowledge of the environment and spirits.