Karamoja Travel Information & History
The north eastern region of Ugandan known as Karamoja, has been a destination for only the most adventurous travellers. Until now…
History of isolation
From colonial times up to five years ago the northeastern region of Uganda known as Karamoja, has been isolated. Under colonial rule the Karamoja region was a closed district and mobility restricted making it only accessible with a permit. During Amin's reign the Karimojong people were suppressed and humiliated. In the eighties the Karimojong obtained guns from abandoned army barracks that caused a tribal war for thirty years. Until in 2001 the Ugandan People Defence Force started a successful ten year program to disarm the people. In 2011 finally peace returned but many damage had been done.
Transition
Unfortunately the insecure past of the Karimojong has given the region and the people a negative image within Uganda and beyond. But happily the process has started and many countries have changed their travel advice and are allowing their people to travel through this undiscovered region for the first time in decades. Also the Ugandan Government and it's partners are putting a lot of effort into improving it's infrastructure, electricity has reached the region and schools are been built in great numbers.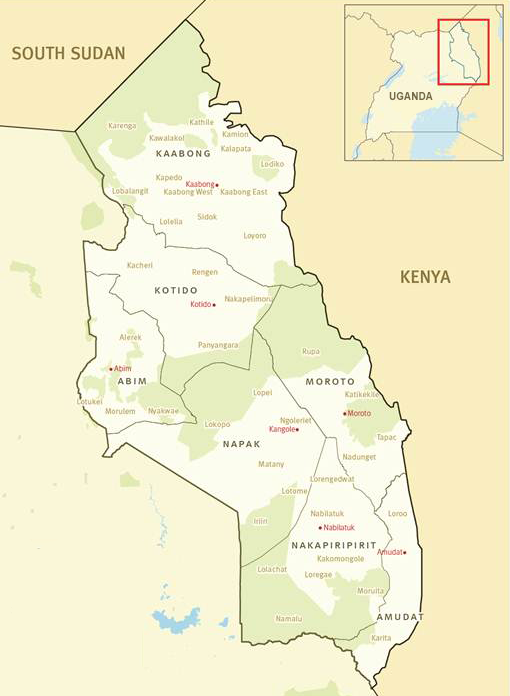 Untouched Karamojong Culture
The Karamojong are nomadic agro-pastoralists known for their love of cattle and their resistance to the trappings of modern civilisation. They consist out of numerous tribes and clans that once migrated from modern days Etheopia including the Maasai, Turkana and Nyangatom living on the Omo Valley of Ethiopia. Due to the decades of isolation and their strong believes, the Karimojong people have been able to maintain their ancestral cultural heritage with cultural customs dating back to thousands of years.
The Karimojong have distinctive beauty ideals as scarification on the body and faces, usage of colourful beads, the iconic blankets and their traditional dances shows great similarities to the renown Maasai in Kenya.
Best Mountains for Hiking in Uganda
The northeastern border of the Karamoja plateau is defined by a string of volcanic mountains that include Mount Morungole, Mount Moroto, and Mount Kadam. On the western border of the region lies Mount Napak that's known for being the port to Karamoja.
The mountains are inhabited by the original inhabitants of the plateau that flied into the mountains during the migration of the Karimojong. In the north live the ik-people and the Tepeth in central and south but each with their own believes and traditions. Small scale organisations are organising guided hikes whereby you will be able to experience the uniquely build homesteads, gardens, breathtaking views, caves, valleys, animals and forests.
Untamed Wilderness
Stretching from the foothills of Mount Elgon to the border of Soutern Sudan, the Karamoja grasslands are a reminder of untamed wilderness and wide-open plains. Across an expanse of 27.000 m2, the region boasts a wealth of natural resources. Despite being arid and semi-arid, these temperate grasslands support many plant and animal species.
Africa's most scenic national park
Offering some of the most stunning scenery of any protected area in Uganda are the three unknown Game Reserves in the east and Kidepo Valley National Park in the extreme northeast of Uganda. The rolling, short-grass savannah lands are ringed by mountains and cut by rocky ridges harbour a number of animals found nowhere else in Uganda.
Karamoja is home to two National Parks and two Game Reserves that collectively have the most unique biodiversity of Uganda and a great importance to the European Bird migration. Pian Upe game reserve covers the area from Mt. Kadam in the South to Mt. Napak to the North. Together with the game reserve of Bokora and Matheniko create a larger ecosystem of savanna and mountains in a semi arid area where species are seen like ostriches, dik dik, hyenas and buffaloes and Uganda's last population of roam antelope. Birdlife is particularly prolific around the swamp terrains where you will find many bird species difficult to see elsewhere like the Jackson's Hornbill (Tockus jacksoni).
In the far north of the region lies one of Africa's most renown and remote national parks, Kidepo Valley, it contains one of the most exciting faunas of any Ugandan parks, with over 80 species of mammals such as the cheetah, Lions, elephants, leopard, warthogs, ostriches, buffaloes, giraffes and lions but also several of which restricted only to Kidepo, striped hyena and caracal.
The bird list boasts over 465 species such as ostriches, Apalis, Jackson's Hornbill, Grenadier, Pygmy Falcon, Red Throated Bee Eater, Rufous chatterer, White-bellied go-away bird and many more.
How to travel
As tourism is still young, it's important to work together with the local community and respecting local customs. Therefore It's advised to guides from Karamoja-based community tours organisations working with local guides.
Also buying locally made crafts or participating in a community tourism experience, you contribute directly to the well-being of that community and encourage its support of conservation.
Best time to travel, Seasonability
During the harvest season, there is plenty of food; weddings and ceremonies are usually conducted during this season which makes in an ideal time to organise a tour. Dry season is best for hiking, trekking and bicycle tours. Read more on the Best time to visit Karamoja page.
Best Travel Guide Book for Karamoja
There are several travel guide books written for Uganda, but none are so detailed as the Bradt Travel Guide Book for Uganda available as ebook and paperback.