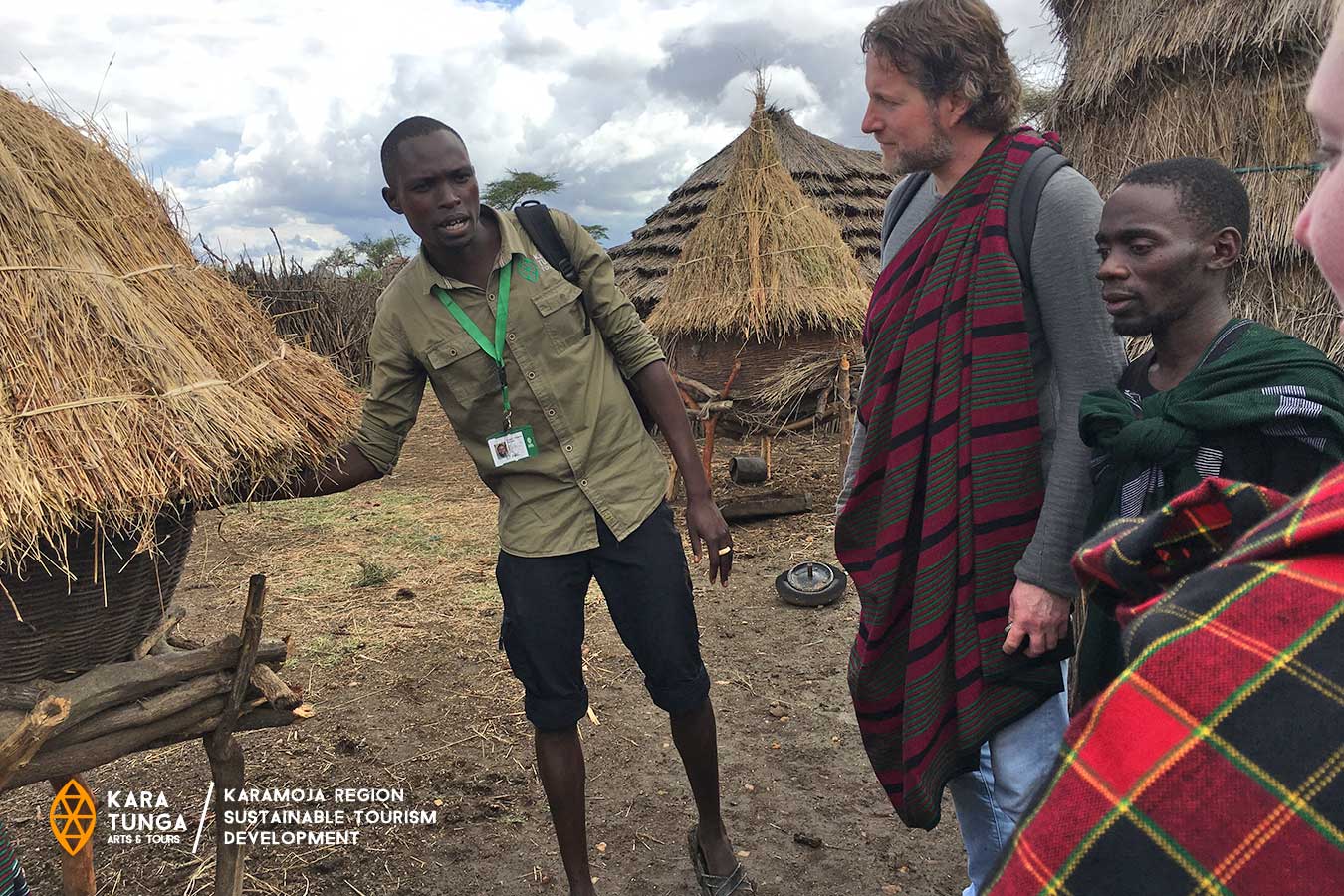 Noorderpoort College Visits Karamoja for Warrior Nomad Trail
Noorderpoort College Visits Karamoja for Warrior Nomad Trail – After a long car ride and with the dust on our faces, we drive through the gate at Kara-Tunga Tours, a sustainable tour operator that provides authentic cultural excursions and outdoor adventures in Karamoja (Northeast Uganda).
We are received by dancing, smiling and jumping people and before we realize it we are participating in a traditional jumping dance in the circle. We hear a traditional reception later, and we certainly feel welcome. In the coming days we meet the employees of Kara-Tunga Tours, we experience the rich culture of Karamoja Land and we will get an impression of this fantastic peace of the country.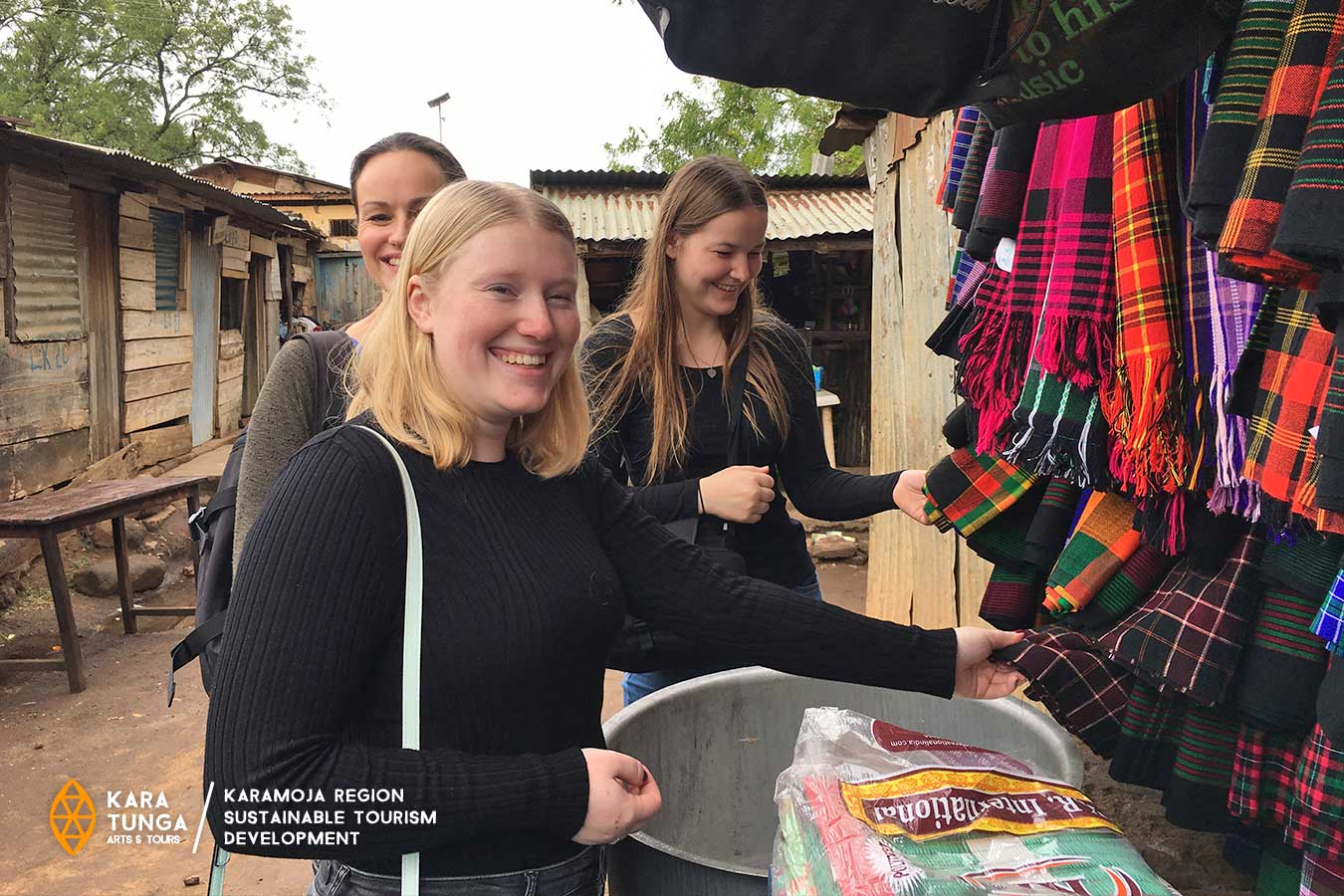 Uganda's tourism potential
The Pearl of Africa has a lot of potential when it comes to tourism. As far as the eye can see, the color green is predominant, big-5 wildlife, primates and ofcourse the Mountain gorilla's. And the people of Uganda with their rich cultures are friendly and welcoming. We are somewhat overwhelmed by all this beauty that we almost forget what we came here for.
The project
We, two teachers from the Noorderpoort College in Groningen, have received the honor to contribute to the great Adventure Tourism Uganda Project together with Kara-Tunga Tours.
We are going to develop various training modules to improve knowledge and skills in tourism and hospitality in Uganda. We will be involved in the training modules "Customer Care", "Cook", "Leadership" and "Train the trainer". In total, we do this with six lecturers from various study programs within the Noorderpoort college, namely the Hotel School, Horeca training and the Tourism and Hospitality training.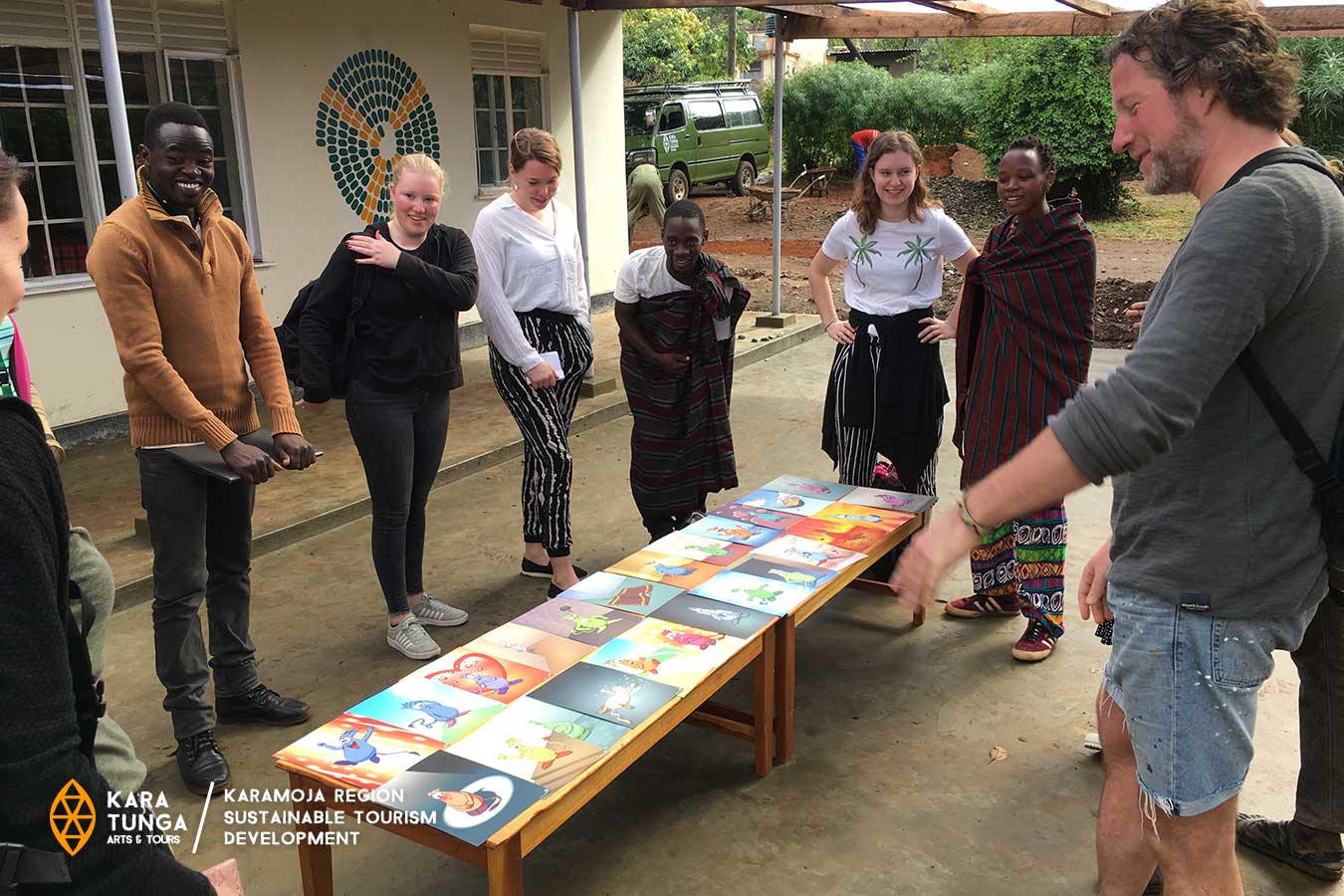 Practical learning
The next day our introduction to the staff of Kara-Tunga Tours begins. We start with a name game in a circle. Immediately there is a relaxed atmosphere and we immediately notice that the staff reacts very enthusiastically to such an active game. Later this day, when we play memory and quartet related to Europe, this picture is confirmed again. They shouldn't have too much theory.
Waking up, moving, laughing, gathering knowledge and discussing it all, makes them warm. With this experience we will start next day. We brought students who follow an excellence project and hold workshops with the staff. Much is learned with, by and from each other.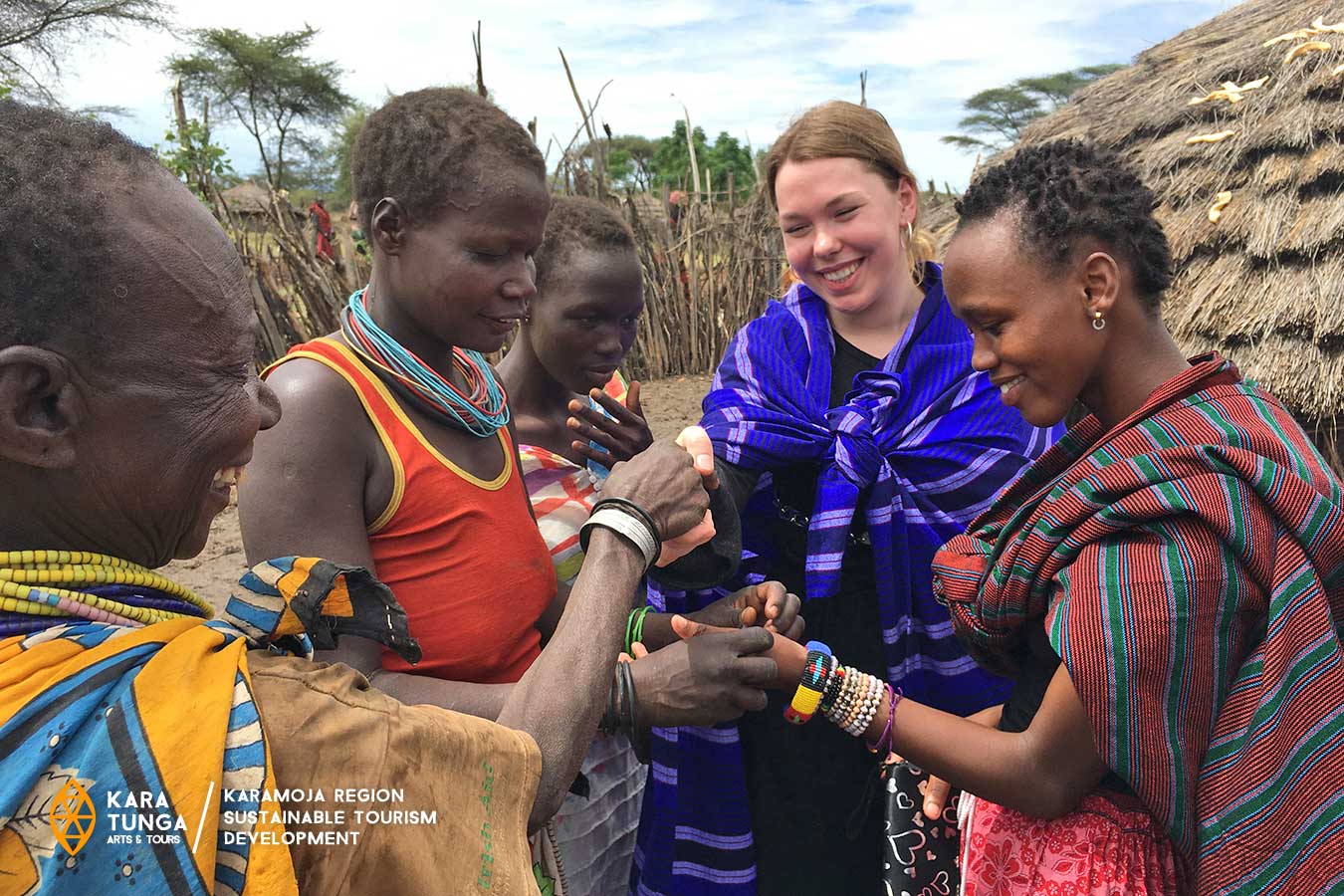 Cultural experience
We visit a traditional wedding together, we visit a market and we walk the Mount Moroto. On Mount Moroto we are again received with singing and dancing, while the sun dies out behind the mountains and leaves a fairytale atmosphere. One student looks at it all with tears in her eyes and tells us that she is so happy that she can experience this. My colleague and I don't know what to say.
Learning experience
A rich learning experience for both the staff of Kara-Tunga Tours and for us. When the day comes to go home, we leave feeling satisfied and rich. We have been able to contribute to the knowledge and skills of the staff and we have gained many new insights ourselves. What experiences do we bring to the Impact Cluster Project?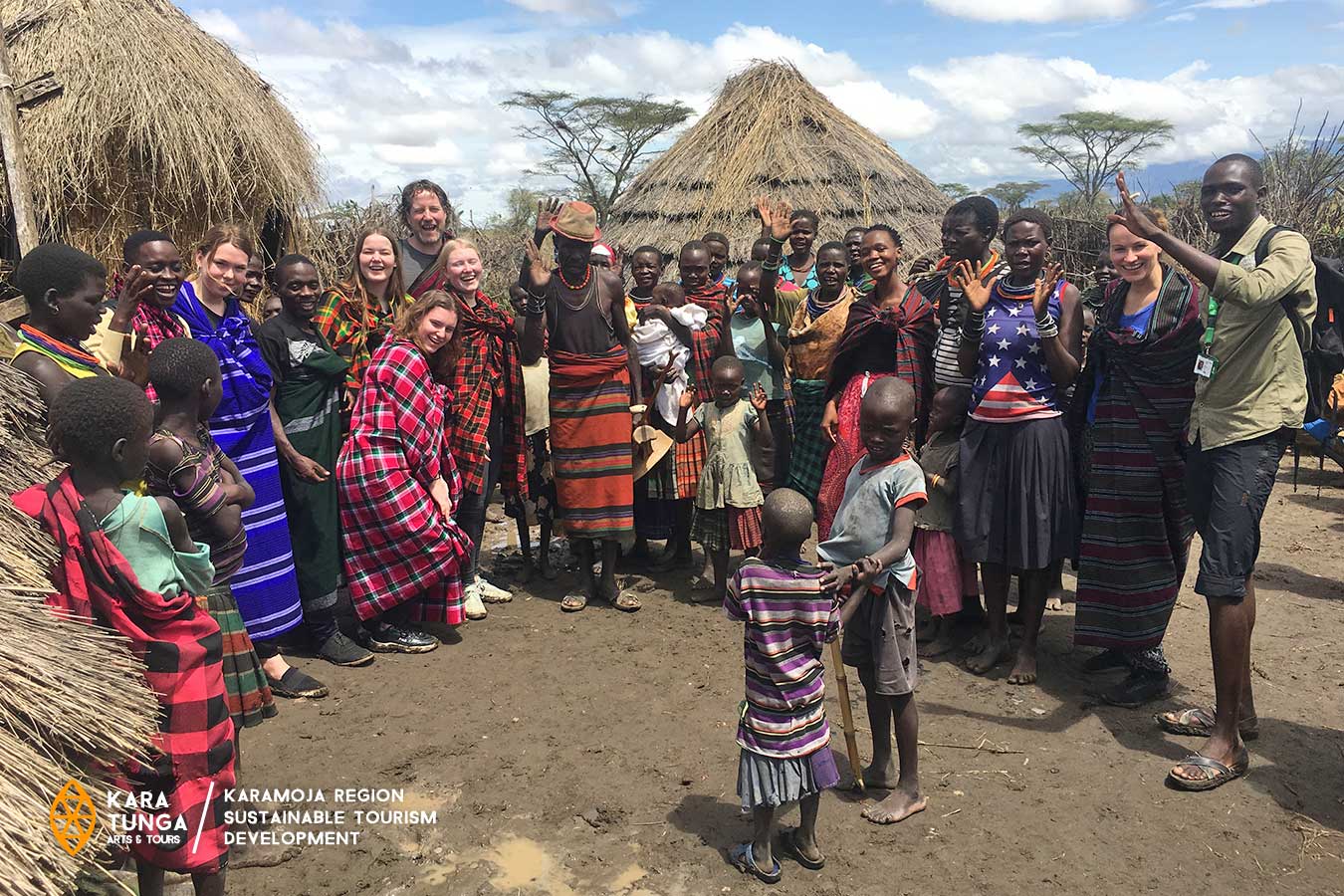 A guide and a top guide
We got to know the tour leaders of Kara-Tunga Tours. They have extensive knowledge about the culture in Karamoja. We noticed a sincerity and a sense of pride. You notice the difference between a guide who does his job because he wants to earn an income and a guide who does his job because he genuinely wants to let you know his culture. The latter is the case with the tour guides of Kara-Tunga Tours.
We also noticed enormous curiosity among the staff. They were open to new insights and knowledge. These qualities (sincerity, pride, passion and curiosity) make the difference between a guide and a top guide, so we have to make full use of these qualities. And this of course also applies to all other employees in tourism.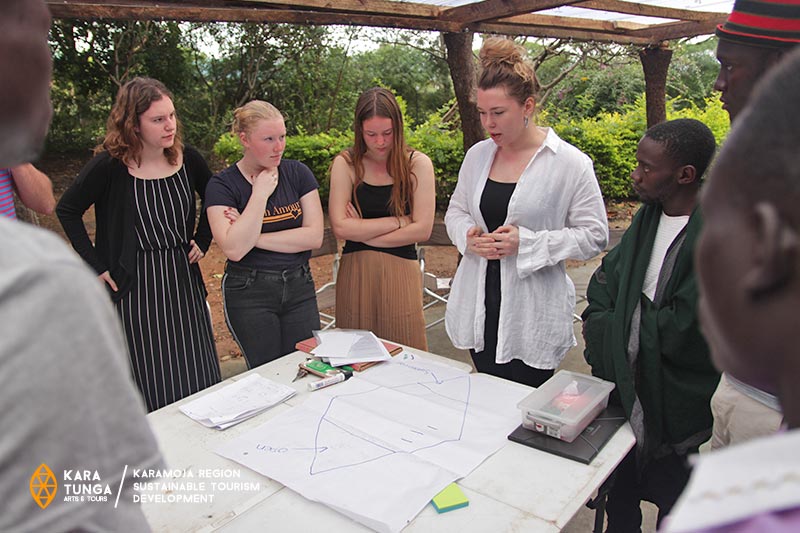 Practical learning
We saw the successful and effective results of practical assignments. Practical education is therefore the key word in the development of our training modules.
In love with Uganda
We fell in love with Uganda and believe that it has a lot to offer tourists. We have seen that the service level of many employees in tourist organizations is already at a decent level. Our mission is to maintain and promote authenticity and sincerity and to sharpen certain service and communication skills.
By increasing and spreading the level of service in tourism, Uganda will exceed the expectations of the tourist in every way!