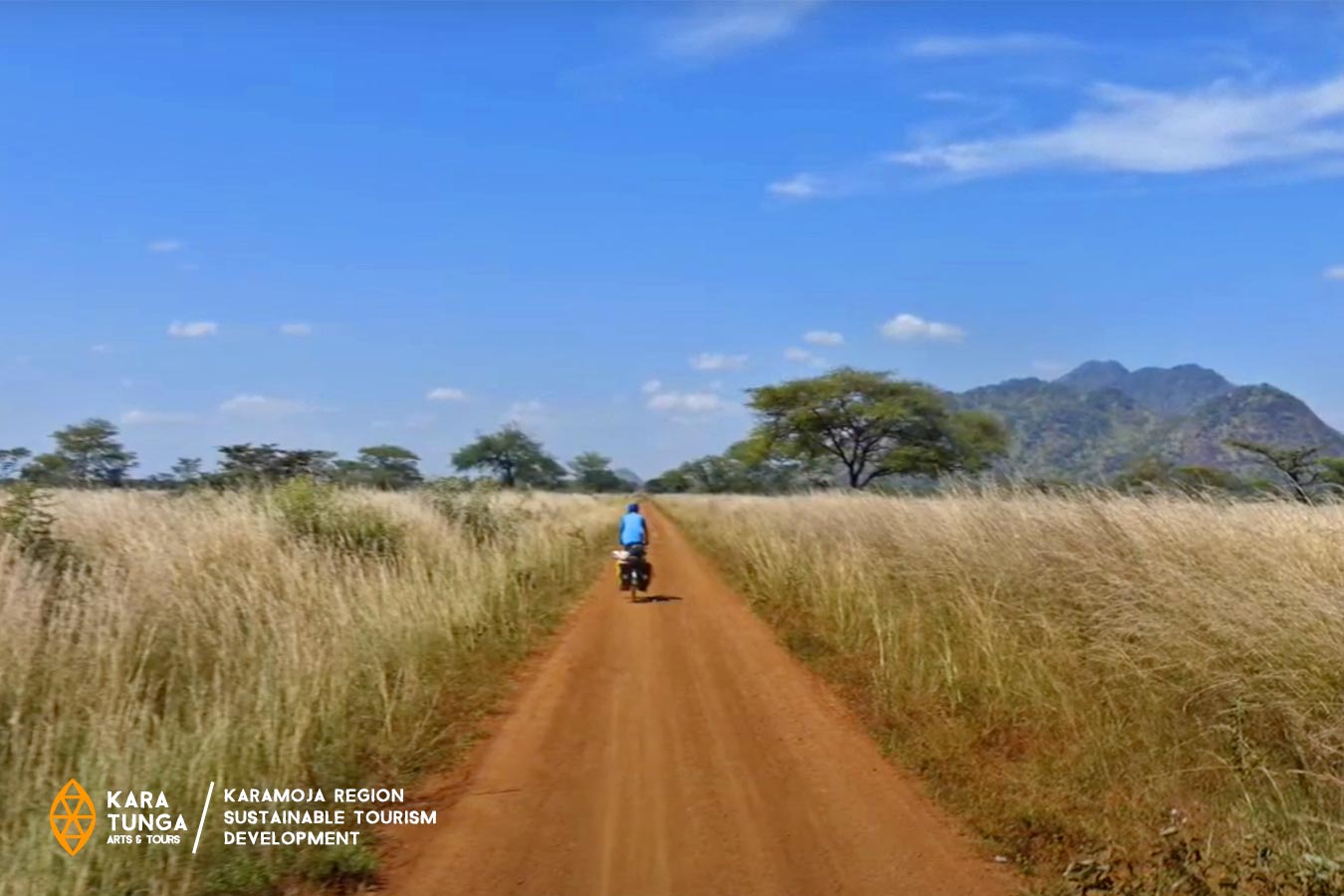 Bikepacking through Karamoja with a Kidepo Safari
Dutch cycling couple Paul Zuidgeest and Kathleen Verhelst are cycling through Africa and passed through Karamoja land with Kara-Tunga that took them to Kidepo Valley National Park.

More articles on Bikepacking Uganda
Read more stories of guests bikepacking through Uganda and especially Northeast Uganda in Karamoja:  www.kara-tunga.com/tag/bikepacking-uganda/
The route
Cycling through Karamoja
Watch below video where the couple is cycling from Karamoja land towards Murchison Falls.
Translated from their website
However, in the rest of Uganda, Karmoja still has a bad reputation. This is confirmed, among other things, by a saying that they have in Uganda: "We can't wait until Karamoja has finally developed." I do not need to give an explanation.
These two reasons (the far corner; you have to drive at least 450 km on a dust road to get there and the fact that it is considered an underdeveloped region by the rest of Uganda) ensures that this park is almost never recommended, let alone we meet men who actively sell or safari cars are ready for us. The various other National Parks in Uganda are closer to the international airport at Kampala and also a shorter distance from each other, so that is what the tour operators are focusing on.
However, we read that Kidepo Valley National Park has been named the 3rd most beautiful park in Africa and the 5th most beautiful National Park in the world by CNN Travel, after the Maasai Mara in Kenya and the Kalahari Reserve in Botswana. We know what to do.
The first 200 km. we travel on the bike. We cycle through a savanna landscape; red dust roads, lots of tall grasses and the occasional acacia tree. This part of Karamoja is still somewhat inhabited, so we can find sleeping accommodation along the way after a good day of cycling and replenish our supplies along the way. On the last 250 km. however, the distances between towns are so great and any necessary help comes so sporadically that we do not consider it responsible to cycle it. The dust roads are sometimes so sandy that we have to push our bikes and a heavy rain shower makes them impervious, unfortunately in our experience.
In short, we decide to rent a car from Moroto. Unlike other National Parks, we really have to look for a suitable four wheel drive here, but eventually Kara-Tunga Tours has one. On one condition; it is only for hire including driver …"
Read the Dutch version: https://www.cyclingafrica.org/oeganda2-onderweg/