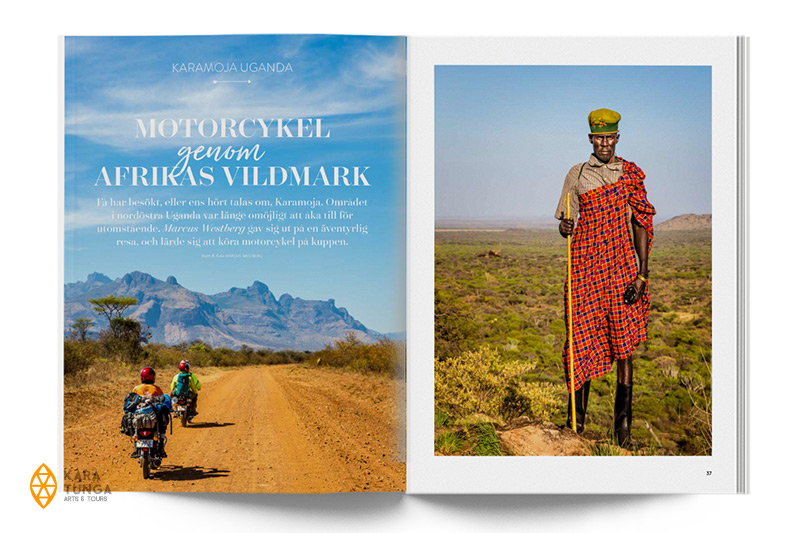 Karamoja Travel Guide in Swedish Vagabond Magazine
Since our beginnings, we have been blessed to collaborate with photographer, story teller and guide
Marcus Westberg
. His passion for the remote and unknown made us engage in a long-term commitment to cover Uganda's best kept secret: Karamoja.
Read our travel report of our walk to the sacred hills of the Karimojong tribe within Uganda's Matheniko Wildlife Reserve. The Reserve is located on the Eastern border of the Karamoja subregion and the hills are the first place of settlement and of major dispatch of present day clans.
Warrior Nomad Trail
The Warrior Nomad Trail is a new initiative of Kara-Tunga and part of Tourism Trails in the Pearl of Africa project. This project has the ambition to improve the competitiveness of Uganda as destination and create jobs by developing adventure and cultural tourism products.
This publication highlights several points of interest along the Warrior Nomad Trail. Learn more about the project here.
Video's
Below video features many scenes from this trip to Karamoja as also showcased in the publication.
The below video is taken during the last trip to the sacred lands of the Karimojong in Matheniko Wildlife Reserve. Learn more.
The journalist
Marcus calls himself a photographer, storyteller and guide, primarily in Africa but also in Europe and Asia. He has an impressive portfolio with publications in worlds renown media. Read more about Marcus on his website: www.marcuswestberg.photo
Marcus Westberg Virtual Tour on New York Times Live:
The publication
View shots of the publication in the Swedish Vagabond Travel Magazine.