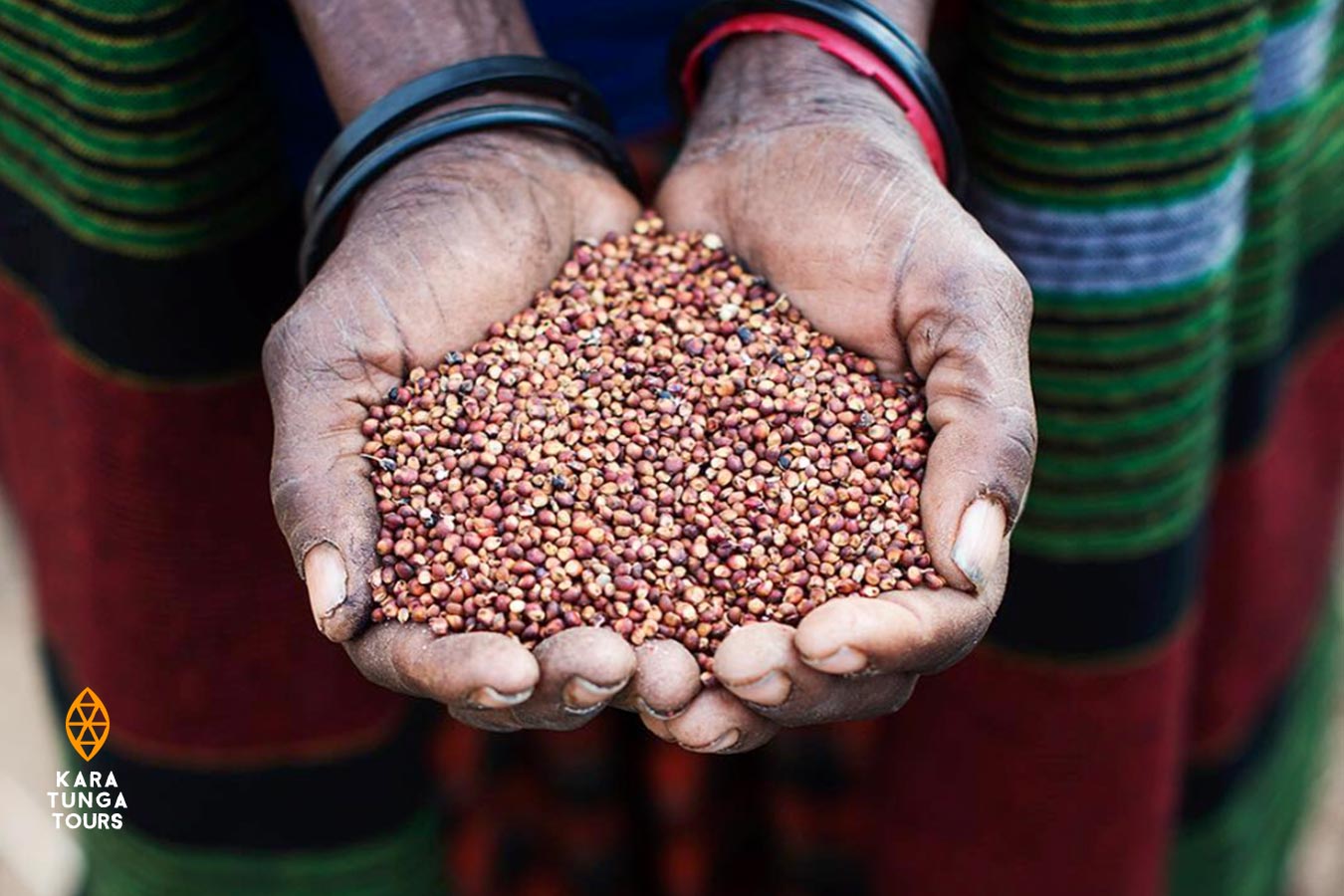 Discovering Karamoja through Food (Eating with Africa)
Yesterday we had the pleasure to share our culture with photographer Maria who's on a journey through Africa to document stories through food and finally make an unique African cookbook 'Eating with Africa'.
Eating with Africa: "Good morning Uganda! For my first story I spent 24 hours with the Karamoja pastoral tribe – Uganda's best kept secret. When the sun sets they eat their one meal of the day, which is usually greens cooked in sunflower water and sourghum.
It's a very basic life but full of culture. They received me in their village with open arms. Spending time with them, eating and sleeping in their midst was an honor. Thank you Kara-Tunga Tours for helping me make this possible! If ever in Uganda go north!"
This is a camp and a guesthouse. It has big nice tents outside that cost between €50.00 – 80.00/ $ 60.00 – 90.00 and guest rooms that cost €12.00 – 18.00 / $13.00 – 20.00. The tents are new and spacious, the guest rooms are small, a little old with the usual water problems (no pressure ;)) but just fine for the price and you have your own bathroom.
A simple breakfast is included: toast, eggs and fruit. They have a nice modern restaurant with good food from pizza to local dishes and good coffee at a very good price. This is where a lot of foreigners who work in the area also meet, as there are not many places to go in Moroto—it's quite a poor town but perfect for people who want to see something else than mountain gorillas and safari sites.
The Karamoja area has a totally different culture to the South of Uganda. Here, they say it's "Uganda's best kept secret." One of the best parts about staying here was the staff and the tours that you can book, discovering the Karamoja area and the Karamojong tribe. There are all sorts of tours, from hiking the Moroto Mountain to visiting the villages of the Karamojong. If you want, you can even stay overnight in a village with the Karamojong tribe. I did, although it might not be something for everyone, there were some surprises and I can't say I really slept, but it was an adventure and an experience. Especially getting up with the tribe at sunrise and watching the men leave the village with the cattle to graze in the fields.
You won't experience this if don't sleep in the village. I didn't sleep in a hut, but in a tent that we brought with us and my guide, who also lived in the village, built it up for me in the middle of his village. I then stayed at Kara-Tunga for two nights. Thank you Theo for helping me get the most authentic experience with the Karamojong and sponsoring my stay! When in Uganda, go north! For more information check out the links below!
Source: Eating With Africa